Page 23 - FIS World November 2021
P. 23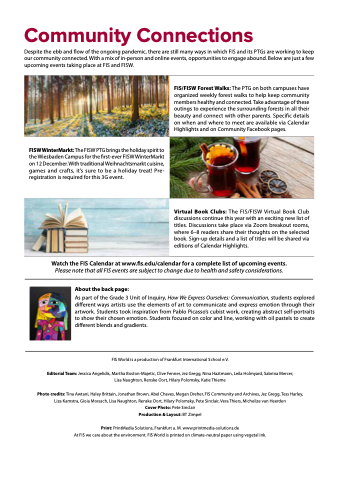 Community Connections
Despite the ebb and flow of the ongoing pandemic, there are still many ways in which FIS and its PTGs are working to keep our community connected. With a mix of in-person and online events, opportunities to engage abound. Below are just a few upcoming events taking place at FIS and FISW.
   FIS/FISW Forest Walks: The PTG on both campuses have organized weekly forest walks to help keep community members healthy and connected. Take advantage of these outings to experience the surrounding forests in all their beauty and connect with other parents. Specific details on when and where to meet are available via Calendar Highlights and on Community Facebook pages.
   FISW WinterMarkt: The FISW PTG brings the holiday spirit to the Wiesbaden Campus for the first-ever FISW WinterMarkt on 12 December. With traditional Weihnachtsmarkt cuisine, games and crafts, it's sure to be a holiday treat! Pre- registration is required for this 3G event.
   Virtual Book Clubs: The FIS/FISW Virtual Book Club discussions continue this year with an exciting new list of titles. Discussions take place via Zoom breakout rooms, where 6–8 readers share their thoughts on the selected book. Sign-up details and a list of titles will be shared via editions of Calendar Highlights.
  Watch the FIS Calendar at www.fis.edu/calendar for a complete list of upcoming events.
Please note that all FIS events are subject to change due to health and safety considerations.
About the back page:
As part of the Grade 3 Unit of Inquiry, How We Express Ourselves: Communication, students explored different ways artists use the elements of art to communicate and express emotion through their artwork. Students took inspiration from Pablo Picasso's cubist work, creating abstract self-portraits to show their chosen emotion. Students focused on color and line, working with oil pastels to create different blends and gradients.
FIS World is a production of Frankfurt International School e.V.
Editorial Team: Jessica Angelidis, Martha Boston-Majetic, Clive Fenner, Jez Gregg, Nina Haztmann, Leila Holmyard, Sabrina Mercer, Lisa Naughton, Renske Oort, Hilary Polomsky, Katie Thieme
Photo credits: Tina Awtani, Haley Brittain, Jonathan Brown, Abel Chaves, Megan Dreher, FIS Community and Archives, Jez Gregg, Tess Harley, Liza Kamstra, Gioia Morasch, Lisa Naughton, Renske Oort, Hilary Polomsky, Pete Sinclair, Vera Thiers, Michelize van Heerden
Cover Photo: Pete Sinclair
Production & Layout: BT Zimpel
Print: PrintMedia Solutions, Frankfurt a. M. www.printmedia-solutions.de
At FIS we care about the environment. FIS World is printed on climate-neutral paper using vegetal ink.