Page 27 - FIS World Oct 2019 Web
P. 27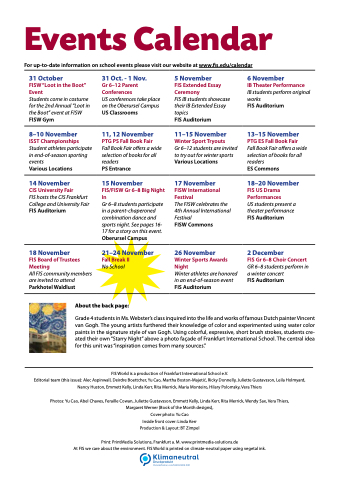 Events Calendar
For up-to-date information on school events please visit our website at www.fis.edu/calendar
  31 October
FISW "Loot in the Boot" Event
Students come in costume for the 2nd Annual "Loot in the Boot" event at FISW FISW Gym
8–10 November
ISST Championships
Student athletes participate in end-of-season sporting events
Various Locations
14 November
CIS University Fair
FIS hosts the CIS Frankfurt College and University Fair FIS Auditorium
18 November
FIS Board of Trustees Meeting
All FIS community members are invited to attend Parkhotel Waldlust
31 Oct. - 1 Nov.
Gr 6–12 Parent Conferences
US conferences take place on the Oberursel Campus US Classrooms
11, 12 November
PTG PS Fall Book Fair
Fall Book Fair offers a wide selection of books for all readers
PS Entrance
15 November
FIS/FISW Gr 6–8 Big Night In
Gr 6–8 students participate in a parent-chaperoned combination dance and sports night. See pages 16- 17 for a story on this event. Oberursel Campus
21–24 November
Fall Break II
No School
5 November
FIS Extended Essay Ceremony
FIS IB students showcase their IB Extended Essay topics
FIS Auditorium
11–15 November
Winter Sport Tryouts
Gr 6–12 students are invited to try out for winter sports Various Locations
17 November
FISW International Festival
The FISW celebrates the 4th Annual International Festival
FISW Commons
26 November
Winter Sports Awards Night
Winter athletes are honored in an end-of-season event FIS Auditorium
6 November
IB Theater Performance
IB students perform original works
FIS Auditorium
13–15 November
PTG ES Fall Book Fair
Fall Book Fair offers a wide selection of books for all readers
ES Commons
18–20 November
FIS US Drama Performances
US students present a theater performance FIS Auditorium
2 December
FIS Gr 6–8 Choir Concert
GR 6–8 students perform in a winter concert
FIS Auditorium
     About the back page:
 Grade 4 students in Ms. Webster's class inquired into the life and works of famous Dutch painter Vincent van Gogh. The young artists furthered their knowledge of color and experimented using water color paints in the signature style of van Gogh. Using colorful, expressive, short brush strokes, students cre- ated their own "Starry Night" above a photo façade of Frankfurt International School. The central idea for this unit was "inspiration comes from many sources."
FIS World is a production of Frankfurt International School e.V.
Editorial team (this issue): Alec Aspinwall, Deirdre Boettcher, Yu Cao, Martha Boston-Majetić, Ricky Donnelly, Juliette Gustavsson, Leila Holmyard, Nancy Huston, Emmett Kelly, Linda Kerr, Rita Merrick, Maria Monteiro, Hilary Polomsky, Vera Thiers
Photos: Yu Cao, Abel Chaves, Feraille Cowan, Juliette Gustavsson, Emmett Kelly, Linda Kerr, Rita Merrick, Wendy Sax, Vera Thiers, Margaret Werner (Book of the Month designs),
Cover photo: Yu Cao
Inside front cover: Linda Kerr
Production & Layout: BT Zimpel
Print: PrintMedia Solutions, Frankfurt a. M. www.printmedia-solutions.de
At FIS we care about the environment. FIS World is printed on climate-neutral paper using vegetal ink.