Page 27 - FIS World Feb 2019
P. 27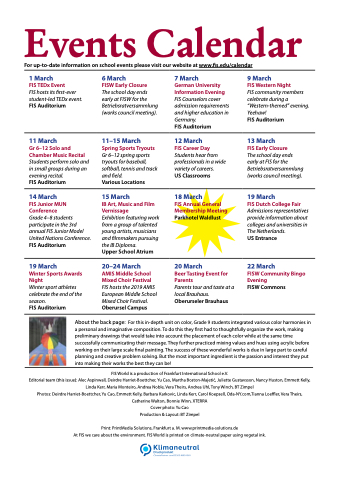 Events Calendar
For up-to-date information on school events please visit our website at www.fis.edu/calendar
  1 March
FIS TEDx Event
FIS hosts its first-ever student-led TEDx event. FIS Auditorium
11 March
Gr 6–12 Solo and Chamber Music Recital Students perform solo and in small groups during an evening recital.
FIS Auditorium
14 March
FIS Junior MUN Conference
Grade 4–8 students participate in the 3rd annual FIS Junior Model United Nations Conference. FIS Auditorium
19 March
Winter Sports Awards Night
Winter sport athletes celebrate the end of the season.
FIS Auditorium
6 March
FISW Early Closure
The school day ends early at FISW for the Betriebsratversammlung (works council meeting).
11–15 March
Spring Sports Tryouts
Gr 6–12 spring sports tryouts for baseball, softball, tennis and track and field.
Various Locations
15 March
IB Art, Music and Film Vernissage
Exhibition featuring work from a group of talented young artists, musicians and filmmakers pursuing the IB Diploma.
Upper School Atrium
20–24 March
AMIS Middle School Mixed Choir Festival FIS hosts the 2019 AMIS European Middle School Mixed Choir Festival. Oberursel Campus
7 March
German University Information Evening FIS Counselors cover admission requirements and higher education in Germany.
FIS Auditorium
12 March
FIS Career Day
Students hear from professionals in a wide variety of careers.
US Classrooms
18 March
FIS Annual General Membership Meeting Parkhotel Waldlust
20 March
Beer Tasting Event for Parents
Parents tour and taste at a local Brauhaus. Oberurseler Brauhaus
9 March
FIS Western Night
FIS community members celebrate during a "Western-themed" evening. Yeehaw!
FIS Auditorium
13 March
FIS Early Closure
The school day ends early at FIS for the Betriebsratversammlung (works council meeting).
19 March
FIS Dutch College Fair
Admissions representatives provide information about colleges and universities in The Netherlands.
US Entrance
22 March
FISW Community Bingo Evening
FISW Commons
      About the back page: For this in-depth unit on color, Grade 9 students integrated various color harmonies in a personal and imaginative composition. To do this they first had to thoughtfully organize the work, making preliminary drawings that would take into account the placement of each color while at the same time successfully communicating their message. They further practiced mixing values and hues using acrylic before working on their large scale final painting. The success of these wonderful works is due in large part to careful planning and creative problem solving. But the most important ingredient is the passion and interest they put into making their works the best they can be!
 FIS World is a production of Frankfurt International School e.V.
Editorial team (this issue): Alec Aspinwall, Deirdre Harriet-Boettcher, Yu Cao, Martha Boston-Majetić, Juliette Gustavsson, Nancy Huston, Emmett Kelly, Linda Kerr, Maria Monteiro, Andrea Noble, Vera Theirs, Andrea Uhl, Tony Winch, BT Zimpel
Photos: Deirdre Harriet-Boettcher, Yu Cao, Emmett Kelly, Barbara Karkovic, Linda Kerr, Carol Koepsell, Oda-NY.com,Tianna Loeffler, Vera Theirs, Catherine Walton, Bonnie Winn, XTERRA
Cover photo: Yu Cao
Production & Layout: BT Zimpel
Print: PrintMedia Solutions, Frankfurt a. M. www.printmedia-solutions.de
At FIS we care about the environment. FIS World is printed on climate-neutral paper using vegetal ink.