Page 27 - FIS World October 2018
P. 27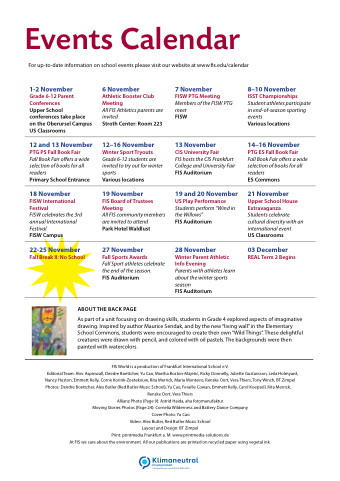 Events Calendar
For up-to-date information on school events please visit our website at www.fis.edu/calendar
1-2 November
Grade 6-12 Parent Conferences
Upper School conferences take place on the Oberursel Campus US Classrooms
12 and 13 November
PTG PS Fall Book Fair
Fall Book Fair offers a wide selection of books for all readers
Primary School Entrance
18 November
FISW International Festival
FISW celebrates the 3rd annual International Festival
FISW Campus
22-25 November
Fall Break II: No School
6 November
Athletic Booster Club Meeting
All FIS Athletics parents are invited
Stroth Center: Room 223
12–16 November
Winter Sport Tryouts
Grade 6-12 students are invited to try out for winter sports
Various locations
19 November
FIS Board of Trustees Meeting
All FIS community members are invited to attend
Park Hotel Waldlust
27 November
Fall Sports Awards
Fall Sport athletes celebrate the end of the season.
FIS Auditorium
7 November
FISW PTG Meeting
Members of the FISW PTG meet
FISW
13 November
CIS University Fair
FIS hosts the CIS Frankfurt College and University Fair FIS Auditorium
19 and 20 November
US Play Performance
Students perform "Wind in the Willows"
FIS Auditorium
28 November
Winter Parent Athletic Info Evening
Parents with athletes learn about the winter sports season
FIS Auditorium
8–10 November
ISST Championships
Student athletes participate in end-of-season sporting events
Various locations
14–16 November
PTG ES Fall Book Fair
Fall Book Fair offers a wide selection of books for all readers
ES Commons
21 November
Upper School House Extravaganza
Students celebrate cultural diversity with an international event
US Classrooms
03 December
REAL Term 2 Begins
     ABOUT THE BACK PAGE
 As part of a unit focusing on drawing skills, students in Grade 4 explored aspects of imaginative drawing. Inspired by author Maurice Sendak, and by the new "living wall" in the Elementary School Commons, students were encouraged to create their own "Wild Things". These delightful creatures were drawn with pencil, and colored with oil pastels. The backgrounds were then painted with watercolors.
FIS World is a production of Frankfurt International School e.V.
Editorial Team: Alec Aspinwall, Deirdre Boettcher, Yu Cao, Martha Boston-Majetić, Ricky Donnelly, Juliette Gustavsson, Leila Holmyard,
Nancy Huston, Emmett Kelly, Corrie Korink-Zoetekouw, Rita Merrick, Maria Monteiro, Renske Oort, Vera Thiers, Tony Winch, BT Zimpel Photos: Deirdre Boettcher, Alex Butler (Red Butler Music School), Yu Cao, Feraille Cowan, Emmett Kelly, Carol Koepsell, Rita Merrick,
Renske Oort, Vera Thiers
Allianz Photo (Page 9): Astrid Haida, aha fotomanufaktur
Moving Stories Photos (Page 24): Cornelia Wilderness and Battery Dance Company
Cover Photo: Yu Cao
Video: Alex Butler, Red Butler Music School
Layout and Design: BT Zimpel
Print: printmedia Frankfurt a. M. www.printmedia-solutions.de
At FIS we care about the environment. All our publications are printed on recycled paper using vegetal ink.