Page 23 - FIS World
P. 23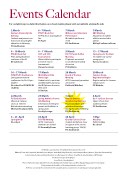 Events Calendar
For complete up-to-date information on school events please visit our website at www. s.edu
2 March
German University Info Evening
Students and parents can learn more about higher education in Germany FIS Auditorium
8 – 10 March
PTG ES Book Fair
PTG's Spring Book Fair continues at the ES
ES Commons
16 – 17 March
FISW/PS/ES Conferences
Spring parent teacher conferences for First Steps – Grade 5
No school for FISW/PS/ES students
22 March
FIS Early Closure
Oberursel Campus
closes at 14:00 for Betriebsratversammlung Oberursel Campus Only
8 – 23 April
Spring Break
No school
6–7 March
PTG PS Book Fair
FIS PTG hosts a Spring Book Fair
PS Foyer
8 – 11 March
ISST and SCIS Tournaments
Winter athletes participate in end-of-season tournaments
Various locations
17 March
IB Art/Music/Film Vernissage
Student artists, musicians and  lmmakers pursuing the IB Diploma showcase their work
US Atrium
29 March
Spring Athletics Parent Info Meeting Information meeting for parents with athletes in spring sports
Faculty Lounge
25 April
FIS PTG Meeting
All FIS Community members are invited PS Assembly Room
7 March
IB Dance and Literature Performance
IB students perform at 19:00
FIS Auditorium
9 March
FIS PS Parent Co ee Morning
PS parents are invited to an informal monthly discussion
PS Cafeteria
20 March
Board of Trustees Meeting
All FIS community members are invited
Parkhotel Waldlust
3 April
Annual General Membership Meeting Board candidates will introduce themselves during this special meeting FIS Auditorium
26 April
Charity Fashion Show
Student-led fashion show in support of the service learining group, "GirlUp" FIS Auditorium
7 March
ABC Meeting
All parents of student athletes are invited to attend
McKay Conference Room
13 – 17 March
Spring Sports Try-Outs
US students try out for spring sports
Various locations
20 March
Summer Camp Registration Begins Register online for Summer Camp courses
FIS Website
4 April
Gr 9–12 Choir Concert
Upper School choir students perform FIS Auditorium
1 May
May Day
Public Holiday
No school
FIS World is a production of Frankfurt International School e.V.
Editorial Team: Alec Aspinwall, Martha Boston-Majetic, Anita Buß, Ricky Donnelly, Leila Holmyard, Nancy Huston, Ryan Karr, Emmett Kelly, Corrie Korink-Zoetekouw, Maria Monteiro, Lisa Niemeyer, Vera Thiers, Tony Winch, Julia Vanderpool, BT Zimpel
Production & Layout: BT Zimpel
Cover Photo: Shea Hubbard
Photos: Richard Coburn, David French, Shea Hubbard, Ito Family, Tianna Loe er, Natalya Marquand, FIS Community
Print: printmedia Frankfurt a. M. www.printmedia-solutions.de
At FIS we care about the environment. All our publications are printed on recycled paper using vegetal ink.