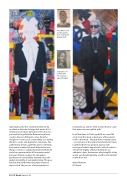 urbanization, like the creativity evidenced by excellent architectural design, but much of it is 'destruction of nature by humans.' Her choice to portray Karl Lagerfeld, the German-born head creative director of Chanel, comes from the designer's recent use of sustainability as a driving theme to create and display his collections. The authenticity of Karl Lagerfeld's green credentials has been the subject of much dispute, but one thing is certain: as a global luxury brand himself, and a key representative of the quintessential paragon of haute couture, his outspoken promotion of sustainability instantly raises the global desirability of sustainable living. This goes hand-in-hand with what Jung Hyun wants to expose: that "the process of erasing nature is
instantaneous and we need to learn how to value that nature we were gifted with."
From 'Kim Yuna' to 'Karl Lagerfeld' we come full circle: from the mask as destroyer of the natural (self) to the mask – the global mass luxury brand – as promoter of the natural (environment). Taken together, these four portraits paint a stark message of what is important to value in order to elevate the dignity of future humanity: our authentic selves, the humans who bring life to the world, our shared humanity, and the environment in which we live.
Maria Monteiro FIS Parent
18 FIS World June 2018
Artist Marlon (self portrait) and his work, Jean Michel Basquiat (left).
Jung Hyun (self portrait) and
her work, Karl Lagerfeld (right).