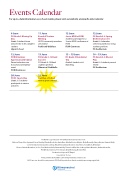 Events Calendar
For up-to-date information on school events please visit our website at www.fis.edu/calendar
 8 June
FIS Grade 5 Moving Up Day
Grade 5 students learn what it's like to be a Grade 6 student.
Upper School
12 June
FISW Volunteer Appreciation Breakfast Parent volunteers are honored at a breakfast event.
FISW Commons
20 June
FIS ES Sports Day
Grade 2–5 students participate in various activities.
11 June
Board of Trustees Meeting
All FIS community members are invited
Parkhotel Waldlust
13 June
FIS Grade 6–12 Band Concert
FIS Grade 6–12 Band students perform. Oberursel Stadthalle
22 June
Last Day of School
Have a great summer!
12 June
Junior MUN at FISW
Students participate in a 'Junior MUN' conference at FISW.
FISW Commons
13 – 15 June
FIS Grade 5 Residential Trip
Grade 5 students visit Nürnberg.
12 June
FIS Grade 6–8 Spring Orchestra Concert
Grade 6–8 chamber orchestra and honor string students perform.
FIS Auditorium
18 – 19 June
FIS Grade 6–8 Musical Play
Grade 6–8 students present 'Shrek'.
FIS Auditorium
     FIS World is a production of Frankfurt International School e.V.
Editorial Team: Alec Aspinwall, Jason Bentley, Deirdre Boettcher, Anita Buss, Martha Boston-Majetic, Ricky Donnelly, Nancy Huston, Emmett Kelly, Corrie Korink-Zoetekouw, Don Lothrop, Rita Merrick, Maria Monteiro, Vera Thiers, Tony Winch, BT Zimpel
Photos: Deirdre Boettcher, Yu Cao, Foto Wachendörfer, Emmett Kelly, Tianna Loeffler, Don Lothrop, Maria Monteiro, Andrea Mosteller, PrintMedia Solutions, Pete Sinclair, Dewi Wernsing, Bonnie Winn
Production & Layout: BT Zimpel
Cover photo: Yu Cao
Print: printmedia Frankfurt a. M. www.printmedia-solutions.de
At FIS we care about the environment. FIS World is printed on climate-neutral paper using vegetal ink.