Page 27 - FIS World
P. 27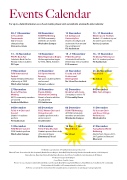 Events Calendar
For up-to-date information on school events please visit our website at www. s.edu/calendar
08–11 November
ISST and SCIS Tournaments
End of season championships Various Locations
13 –14 November
PTG PS Book Fair
Scholastic Book Fair for Primary School students PS Foyer
19 November
FISW International Festival
Family-friendly celebration of diversity at FISW Wiesbaden Campus
27 November
Board of Trustees Meeting
All FIS community members are invited
Parkhotel Waldlust
04 December
FIS Gr 6–8 Choir and Concert
Grade 6–8 students perform
FIS Auditorium
13 December
FISW Winter Concert
FISW students perform
Wiesbaden Campus
08 November
FISW PTG Meeting
All FISW community members are invited Wiesbaden Campus
15 November
REAL Registration Begins
Online registration begins for Term 2 REAL Activities
21 November
Fall Sports Awards Evening
Fall sports student athletes are honored
Various Locations
29 November
Parent Athlete Information Evening Parents of winter athletes should attend
FIS Auditorium
05 December
FIS ES Winter Choir and Strings Concert Students perform in this winter concert
Stroth Center
14 December
FIS Gr 5 Wax Museum
Students present their study of historical  gures Elementary School
13 November
CIS College and University Fair
Dozens of colleges and universities from around the world present
FIS Auditorium
15 –17 November
PTG ES Book Fair
Scholastic Book Fair for Elementary School students ES Commons
23 November
Faculty and Sta  Professional Development
No School for students
02 December
Breakfast with Santa
Santa pays a visit to FIS
PS Assembly Room
06 December
FISW PTG Meeting
All FISW community members are welcome Wiesbaden Campus
16 Dec. – 7 Jan.
Winter Break
No School
13 –17 November
Winter Sports Try-Outs
Grade 6–12 students try out for winter sports teams Various Locations
16 –17 November
FIS Drama Performance
Gr 9–12 students perform
FIS Auditorium
23–26 November
Fall Break II
No School
04 December
REAL Term 2 Begins
11 December
FIS Concert Choir and Honor Strings Performance Christuskirche
21 December
Young Alums Winter Gathering
Alumni from Classes 2014– 2017 gather in Oberursel Oberursel
FIS World is a production of Frankfurt International School e.V.
Editorial Team: Sharon Arnold, Alec Aspinwall, Martha Boston-Majetic, Anita Buß, Ricky Donnelly, Deirdre Harriett-Boettcher, Leila Holmyard,
Nancy Huston, Ryan Karr, Emmett Kelly, Maria Monteiro, Vera Thiers, Tony Winch, Julia Vanderpool, BT Zimpel
Production & Layout: BT Zimpel
Cover Photo: Feraille Cowan
Photos: Yu Cao, Chantal Cordwell, Emmett Kelly, Carol Koepsell, Dewi Wernsing, Keith Wilkinson, Toby Wilkinson, Tony Winch, FIS Community Print: printmedia Frankfurt a. M. www.printmedia-solutions.de
At FIS we care about the environment. All our publications are printed on recycled paper using vegetal ink.