Page 28 - FIS World May 2019
P. 28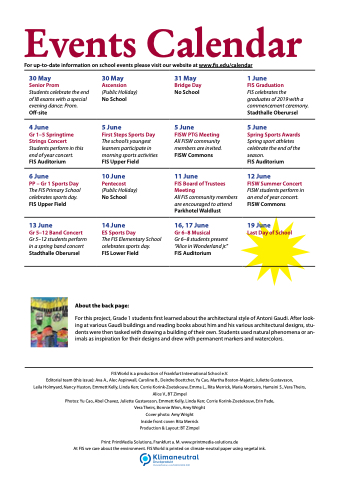 Events Calendar
For up-to-date information on school events please visit our website at www.fis.edu/calendar
  30 May
Senior Prom
Students celebrate the end of IB exams with a special evening dance: Prom. Off-site
4 June
Gr 1–5 Springtime Strings Concert Students perform in this end of year concert.
FIS Auditorium
6 June
PP – Gr 1 Sports Day
The FIS Primary School celebrates sports day. FIS Upper Field
13 June
Gr 5–12 Band Concert
Gr 5–12 students perform in a spring band concert Stadthalle Oberursel
30 May
Ascension
(Public Holiday)
No School
5 June
First Steps Sports Day
The school's youngest learners participate in morning sports activities FIS Upper Field
10 June
Pentecost
(Public Holiday)
No School
14 June
ES Sports Day
The FIS Elementary School celebrates sports day.
FIS Lower Field
31 May
Bridge Day
No School
5 June
FISW PTG Meeting
All FISW community members are invited. FISW Commons
11 June
FIS Board of Trustees Meeting
All FIS community members are encouraged to attend Parkhotel Waldlust
16, 17 June
Gr 6–8 Musical
Gr 6–8 students present "Alice in Wonderland jr." FIS Auditorium
1 June
FIS Graduation
FIS celebrates the graduates of 2019 with a commencement ceremony. Stadthalle Oberursel
5 June
Spring Sports Awards
Spring sport athletes celebrate the end of the season.
FIS Auditorium
12 June
FISW Summer Concert
FISW students perform in an end of year concert. FISW Commons
19 June
Last Day of School
      About the back page:
For this project, Grade 1 students first learned about the architectural style of Antoni Gaudi. After look- ing at various Gaudi buildings and reading books about him and his various architectural designs, stu- dents were then tasked with drawing a building of their own. Students used natural phenomena or an- imals as inspiration for their designs and drew with permanent markers and watercolors.
FIS World is a production of Frankfurt International School e.V.
Editorial team (this issue): Ava A., Alec Aspinwall, Caroline B., Deirdre Boettcher, Yu Cao, Martha Boston-Majetic, Juliette Gustavsson,
Leila Holmyard, Nancy Huston, Emmett Kelly, Linda Kerr, Corrie Korink-Zoetekouw, Emma L., Rita Merrick, Maria Monteiro, Hamsini S., Vera Theirs, Alice V., BT Zimpel
Photos: Yu Cao, Abel Chavez, Juliette Gustavsson, Emmett Kelly, Linda Kerr, Corrie Korink-Zoetekouw, Erin Pade,
Vera Theirs, Bonnie Winn, Amy Wright
Cover photo: Amy Wright
Inside front cover: Rita Merrick
Production & Layout: BT Zimpel
Print: PrintMedia Solutions, Frankfurt a. M. www.printmedia-solutions.de
At FIS we care about the environment. FIS World is printed on climate-neutral paper using vegetal ink.